What is Maikai ?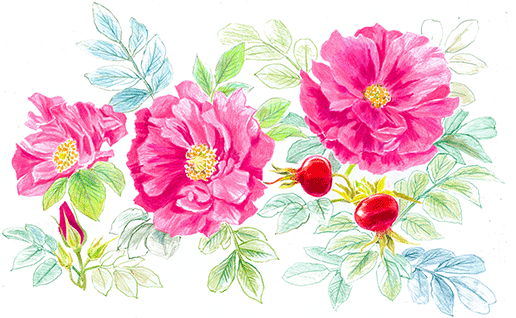 "MAIKAI" has 2 meanings. One is a red gem found in the south, and the other is an original strain of a rose which originated in China. As a plant, Maikai petals are used as stomach medicine, hepatotonics, emmenagogues, and mastitis medicine. The flower is used as a flavor of Chinese rose hip tea. Its roots contain a lot of tannin, so they are used as dye. The edible seeds are rich in vitamin C.
There is a wildflower that grows on beaches in Japan that is a substitute for maikai and is much better-known to people than maikai. In Japan it is known as hamanasu (Rosa rugosa), and it does belong to the same rose family as maikai.
The actual maikai flower is small and is not considered by gardeners as attractive, but the maikai has been essential to our lives since ancient times. Like the maikai flower, we too are small, and perhaps not well-known, yet. However, by basing ourselves and our products on local traditions, culture and customs we want to keep being passionate in our service to our customers, loyal to the community and essential for ongoing generations.